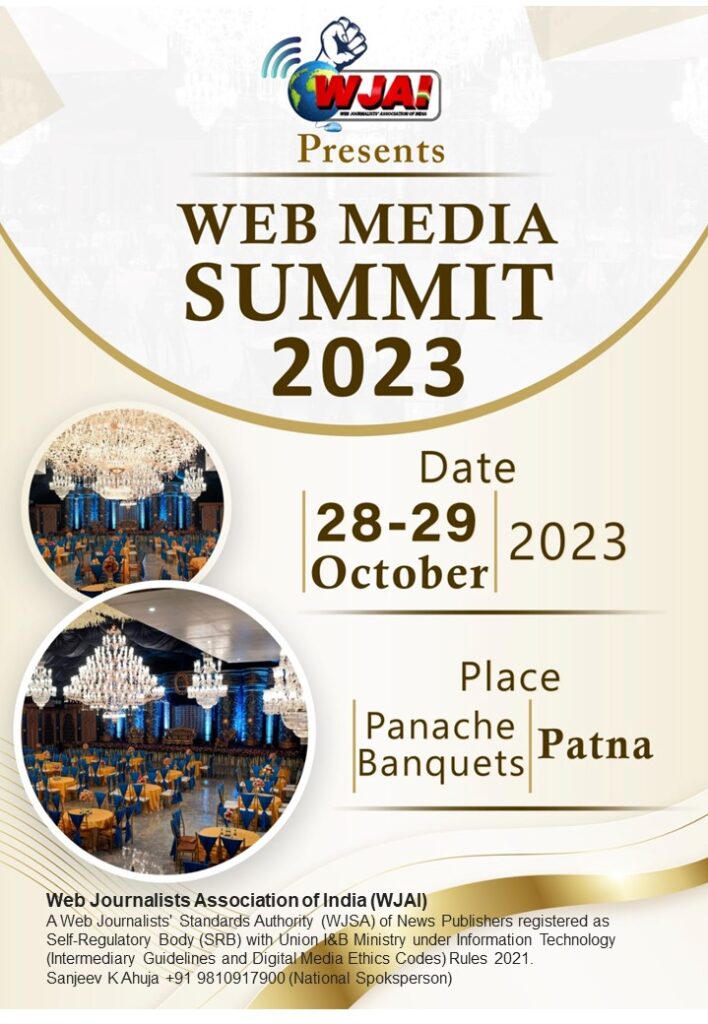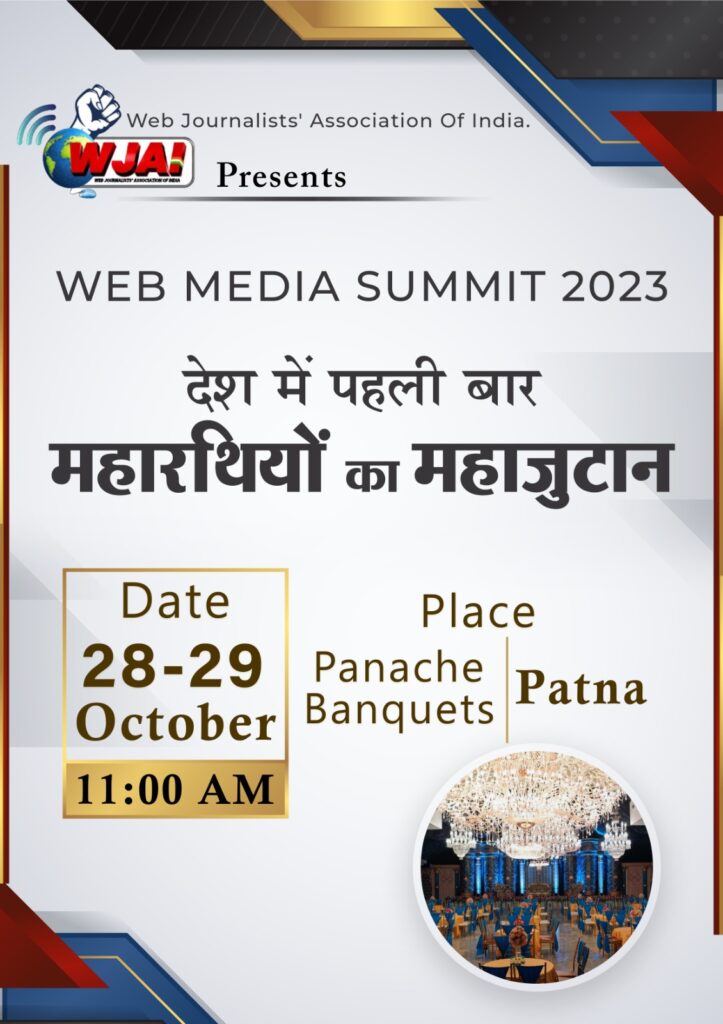 Welcome to New Chapter of Web Media 2023.
Join the forefront of journalism innovation and discussion at the Web Media Summit 2023 in Patna. This two-day event is a unique opportunity for professionals, enthusiasts, and pioneers in the journalism field to engage in critical discussions, network with peers, and help shape the future of journalism.
Frequently Asked Questions
What is the main theme of the Web Media Summit 2023?
The summit will primarily focus on the future of journalism and the societal responsibilities of journalists.
Who are expected to attend the summit?
Eminent personalities from various media houses like Network-18, Zee News, ABP Network, GulfHindi.com and more will be participating.
What is the Web Journalists Standard Authority (WJSA)?
WJSA is a self-regulatory body monitoring the compliance of publishers with the code of conduct and addressing unresolved complaints.
What is the aim of the Web Media Journalists Association of India (WJAI)?
WJAI aims to protect the freedom of web journalists, enhance the standard of web journalism in India, and address readers' complaints.
Exclusive Opportunity! Elevate Your Web Media Presence at the Web Media Summit 2023 🚀
Dear Participants.
We're excited to extend an exclusive invitation to you for the upcoming Web Media Summit 2023, scheduled for the 28th and 29th of October in Patna. This event isn't just another summit — it's a golden ticket to skyrocketing your web media business into new realms of success and innovation!
🌟 What's in Store for You? 🌟
AWS Hosting Credits: Get the chance to secure hosting credits ranging from $300 to $2000 on AWS! It's the perfect opportunity to scale your operations, increase your website's capacity, and optimize performance while keeping costs low.

GCP Hosting Credits: Imagine what you could do with up to $2000 in GCP hosting credits! Enhance your website's infrastructure and reliability with the power of Google Cloud at your fingertips.

AI Guideline Package: Receive an exclusive AI guideline package designed to revolutionize your news media website business. Learn from industry experts on how to leverage Artificial Intelligence to personalize content, automate processes, and gain deep insights into your audience's behavior.
🚀 Why Attend the Web Media Summit 2023? 🚀
Networking: Connect with renowned journalists and experts from different genres. The connections you make here could lead to collaborative opportunities and business partnerships that could be transformative for your career.

Learning: Engage in deep discussions about the future of journalism, focusing on the responsibilities of journalists towards society and the direction journalism should take in the coming years.

Innovation: Be at the forefront of the journalistic revolution. Discover the latest trends, tools, and practices that are shaping the future of digital journalism.

Recognition: Position yourself and your business as key players in the industry. Use this platform to showcase your contributions to web media and establish your authority in the field.
Don't miss this chance to elevate your web media game to new heights. Join us for two days of innovation, inspiration, and forward-thinking that could redefine your business's future.
👉 Secure your spot now! [Registration Link]
Best Regards,
Web Media Summit 2023 Team
Web Media Journalists Association of India (WJAI)
---
P.S. This is more than a summit; it's your pathway to pioneering web journalism's future. Let's make history together! 🌐✨